Screen Panel Designs
We offer an extensive line of screen openings and surface configurations to accommodate your exact production specifications or operational needs, all produced using our unique injection molding process to ensure consistent quality, panel after panel.
Screen Openings
Square - the most common opening style
Openings from 1mm to 200mm
250 different size designs
---
Slotted - for draining liquid or where elongated material is acceptable
Openings from 0.1mm x 9mm up to 178mm x 216mm
150 different opening size options
"With flow" or "against flow" slot directions
---
VR - innovative zigzag design minimizes material entrapment or pegging
"Spring-like" vibrating action rejects over-size material
135 different configurations and opening sizes
---
SVR - elongated material alternative to standard VR design
50 different configurations and opening sizes
Ideal for applications where elongated material does not cause specific problems
---
Round - highly effective in primary scalping operations
Openings from 60mm to 230mm
13 different opening sizes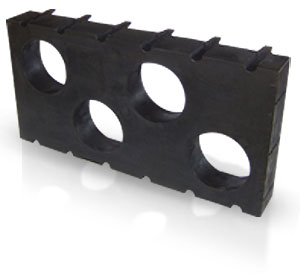 ---
Solid - well suited for high impact and heavy wear
Typically installed at feed end of screen
Can also be used on discharge end as discharge lip
---
Continuous Slot - most commonly used in coal industry
Six different slot widths from 0.5mm to 2.5mm
Increased wear life over stainless-steel profile wire
Offered only in polyurethane
Surface Configurations
With our injection molding process, special surface features, such as dams, skid bars, and deflectors, are part of the original panel construction-not a laminated add-on-for greater strength and longer life.
Dams - used in wet applications to slow material and increase washing effect
One-piece panels with 1-, 2-, or 3-inch dams
Larger dams available for custom applications
---
Restricted Flow - effective in fine sizing applications
Controls material flow rates
Intensifies dewatering and washing effect
Breaks up lumping
---
Skid Bars - keep oversize material off the screen panel surface and reduces wear
One-piece construction
Rubber and polyurethane configurations
---
Deflectors - helps redirect material toward middle of panels
Best suited for conventional lower open area screen panels
Specialty Panels
Cutter Panel - small surface humps situated slot against flow for static flume applications
Particularly effective for dewatering and heavy media recovery.
Small angled surface humps direct water down and into the apertures - slot against flow.
Superior impact resistant capabilities.
30mm thick, 12" x 12", with either 4-pin or 4-snap fastening options.
Slots are 1mm x 304mm.
Available in standard or low durometer polyurethane.
---
Dmax - Ultra high-open area screen panels
DMax™ is Polydeck's series of ultra-high open area screen panels with the open area of wire cloth but with greater wear life and the convenience of a modular format.

DMax™ screen panels take our MAXI panel design to the next level utilizing a modified insert configuration that reduces bridge width between apertures providing more openings on the screen panel surface, which translates to increased product pass-through
---
Herringbone - effective for static sieve applications where heavy media recovery is critical
Openings in 1mm x 22mm and 3mm x 21mm
Increases the effectiveness of drain rates
Offered only in polyurethane
---
VST - Vector Slot Technology - slots at 45 degree angles enable the efficient recovery of heavy media
This patented design incorporates slots at opposing 45 degree angles providing increased drain rates per square foot over straight slots. The orientation of the slots combined with the vibrating motion of the polyurethane agitates the mixture making it less likely for particles to be driven into the apertures as with straight slots.

Heavy media drain and rinse.
Dewatering
Deslime
Available in 0.65mm, 0.85, and 1mm slotted openings in standard and low durometer polyurethane in snap, pin, or PolyRail fastening.

For more info on this panel see polydeckscreen.com/vst
---
SSP (Static Screen Panel) - molded with ridges to intensify dewatering
Ideal for smaller materials, such as sand and fines
Opening sizes from 0.25 mm x 9 mm up to 1.2 mm x 14.5 mm