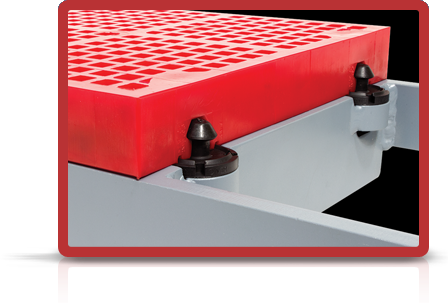 Fastening Options
Polydeck offers a variety of screen media fastening options to effectively attach our screen panels to their frame system, depending on the specific demands of your application. Whether you need maximum holding power, ease of installation and removal, optimum versatility or a combination of all of these, we have a fastening system to meet your needs.
Primary Options
PolySnap® - patented Polydeck design that snaps into place quickly and easily, without the need for pins
Provides a unique positive vertical and horizontal dual-locking mechanism
Requires only a mallet for installation and a screwdriver for removal
Available in both polyurethane and rubber screen panels
Our most popular attachment option
---
Pin-style - widely used in the aggregate and mining industries
Available in various options, depending on application needs and screen panel thickness
Accommodates all Polydeck screen panel designs
---
PolyRail™ - simple, bolt-on rail system commonly used in coal industry
| | |
| --- | --- |
| Converts channel or angle iron frame rails to our PolyRail™ system | |
Secondary Options
Pin and Sleeve - Two-part fastening option to provide extra-duty holding power on scalping applications
For use on 65mm thick and thicker screen panels
Both parts are made of hard, 85 durometer polyurethane
---
Bolt-Down - For top deck, scalping applications that feature large material sizes and maximum impact on the screen surface.
---
| | |
| --- | --- |
| The fastening option used on Armadex™, our line of ultra-tough rubber scalping screen sections and liners. | |
---