Coal Solutions
Polydeck products are ideally suited for the Coal industry, and offer the following process solutions:


Scalping
Scalping sizes the raw
coal before it enters the plant. Both Polydeck's polyurethane screen panels and rubber screen panels can effectively accomplish this, but rubber panels resist abrasion so well that they provide extended wear life while allowing easy, one person changeout.They are also available in a softer rubber option that resists sticky clay build-up.
Also available for scalping
applications is Polydeck's Armadex™ bolt-down rubber solution. This custom rubber screening product uses a proprietary injection molding process along with a premium blend of natural gum rubbers and high-strength low-alloy (HSLA) steel plate backing to produce a product of unprecedented strength, uniformity, and wear life.
For more information, download the Polydeck Scalping data sheet or the Armadex™ brochure.


Deslime
Desliming is an application intended to remove clay from fine raw coal. Our polyurethane screen panels with continuous slot opening designs typically excel in this application because of their outstanding performance and long wear life.


Drain & Rinse
Polydeck's unique polyurethane compound performs very well in clean coal and refuse applications where draining liquids, like water and magnetite, off the material can provide significant cost savings downstream. Our VR (zigzag) design on the top deck and continuous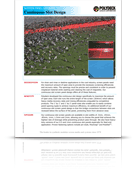 slot design on the bottom deck makes for a very effective combination in extending wear life, reducing or eliminating plugging and blinding, and reducing noise pollution.
For more information, download the Polydeck Continuous Slot Design data sheet. »


Raw Coal
This wet application is intended to make a ½" cut, with oversize going to the vessel and undersize going to the cyclone circuit. Polyurethane screen panels with slotted or VR (zigzag) openings are
typically very effective in providing long wear life, reduced maintenance requirements, and resistance to plugging and blinding. In addition they run more quietly than steel screen media.
For more information, download the Polydeck VR (zig-zag) Design data sheet. »


Fine Dewatering
Our unique injection molding process enables us to produce screen panels with extremely small openings, down to 0.1mm in size. This capability means we can offer our customers a wide range of small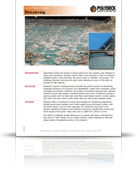 aperture screen panel choices to achieve the most efficient material dewatering. Our excellent quality control provides consistent opening sizes and shapes, panel after panel.
For more information, download the Polydeck Dewatering data sheet. »