Aggregate Screening Solutions
Polydeck screen panels are ideally suited for the Aggregate industry, and offer solutions for all applications:
Frac Sand
Recent demand for frac sand used in shale gas recovery has resulted in a boom in operations permitting. Polydeck can serve as a valuable resource because of our extensive experience in frac sand screening. Our range of small
opening sizes (as small as 0.1mm) and integrated surface features like dams and restricted flow bars allow you to "dial in" your screen layouts to effectively maximize production.
For more information, download our Frac Sand Screening Specialists brochure. »
Scalping
Your scalping deck should be fitted with screen media that can withstand constant pounding, extreme weight, and aggressive abrasion. Polydeck's Armadex™ bolt-down rubber solution combines a specially formulated rubber compound, with our premium-quality injection molding process, to stand
up to this severe duty, while providing significant maintenance and safety advantages over the traditional steel solutions like wire cloth and rubber covered punch plate.
For more information, download the Polydeck Scalping data sheet or the Armadex™ brochure.


Dry Sizing
Sorting aggregate to specification piles requires accuracy of screen opening and high open area for production. Polydeck's screen panels, in both polyurethane and rubber, offer all this along with outstanding wear life. For damp material typically prone to blinding, our Flexi products stand out by retaining open area even in very sticky materials.


Wet Sizing
Wet sizing (usually with sprays) often increases a screen's efficiency. Polydeck's polyurethane products achieve exceptional wear life and can offer higher open area than other synthetics and often exceed the open area of wire cloth. Our VR (zigzag) screen panel design is particularly effective in minimizing pegging, which often plagues wet sizing screens.


Wash/Rinse
Rinse screens are part of the final wash to clean aggregate products prior to sale. The long service life and wide range of opening characteristics and sizes of Polydeck's polyurethane screens is a particularly good fit for wet applications such as this where opening sizes are not often changed.


Dewatering
We understand the challenges of dewatering or draining as much moisture out of a sand product or waste fines, while retaining as much solid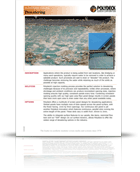 material as possible. Our dewatering panels are available in a variety of openings from 0.1mm (about 140 mesh) to 2mm, and all have a skeleton structure to withstand the very heavy bed depths and high G forces of the application.
For more information, download the Polydeck Dewatering data sheet. »